To all the cheese-lovers out there: YES, National Cheese Day is A THING, and it's being celebrated every 4th of June! So, if you're looking for the perfect excuse to eat cheese ALL DAY, then the right moment is finally here!
Why is cheese a crowd favorite? I mean, do you even know anyone who DOES. NOT. LIKE. CHEESE? Well, they're missing a lot. It's savory with a hint of sweetness, it goes with any dish (literally!), and you can have it as a snack, as part of an actual meal, or even as a drink(ever heard of cream cheese milk tea?)! So, in honor of the SACRED day of cheese, here are some delicious cheese dishes you can prepare for your family this weekend:
Cheddar Waffle Breakfast Sandwich
It's an easy and light breakfast with a classic flair. Try this Cheddar Waffle Breakfast Sandwich and start your family's day with a cheesy surprise!
What You'll Need:
1 box Pancake Mix of your choice

1/2 cup shredded cheddar cheese

1/4 teaspoon garlic powder

eggs

bacon
Prepare pancake mix according to instructions. Add a half cup of shredded cheddar cheese and garlic powder to the mix. Cook it like you would a normal waffle.
Fry the bacon and eggs according to your preferred doneness. Assemble your sandwich with the condiments of your choice. Serve hot!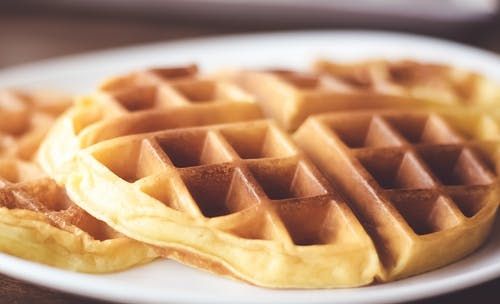 Ham and Cheddar Buttermilk Biscuits
If you're looking for an on-the-go sandwich in an easy-to-eat form, then these Ham and Cheddar Buttermilk Biscuits are the perfect breakfast dish for you! Prepare them the night before and enjoy eating little cheesy sandwiches for days!
What You'll Need:
2 cups all-purpose flour

1 tablespoon baking powder

1/2 teaspoon baking soda

1 teaspoon fine sea salt

1 1/2 stick unsalted butter, cold, grated or cubed

1/2 cup buttermilk, plus 1 tablespoon, cold and shaken

1 large egg

1/2 cup cheddar cheese, shredded

1/4 cup diced ham
Preheat your oven to 450F. In a large bowl, mix all the dry ingredients. Add your grated butter and put the mixture inside the freezer for 10 minutes. Once chilled, break the butter up with your hands until it resembles small peas in the flour.
Whisk together the buttermilk and egg and add it to the flour mixture. Mix until combined. Fold in the cheese and ham, and lightly knead the dough until it forms one solid mass. Dump dough on a lightly floured surface and gently roll into a 1-inch thickness. Cut out the biscuits using a biscuit cutter and transfer to a lined baking sheet.
Put the biscuits inside the freezer for 5 minutes to get the butter nice and cold again. Once chilled, brush the tops with egg wash and bake in the oven for 15-20 minutes. Serve warm with eggs or bacon!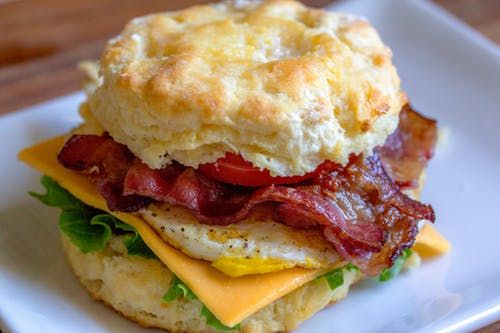 Roasted Tomato and Egg Grilled Cheese Sandwich
An old-time favorite with a smokey twist! Try this Roasted Tomato and Egg Grilled Cheese Sandwich and feel energized and ready to start the day, head-on!
What You'll Need:
1/2 lb tomatoes

1 tablespoon olive oil

1/4 teaspoon salt

1 clove garlic

5-6 basil leaves

2 eggs

3-4 oz. mozzarella

4 pieces of bread

olive oil for brushing
Preheat your oven to 400 degrees. Slice your tomatoes in half and toss it with olive oil and salt. Place the mixture on a covered baking tray and roast it in the oven for 40-50 minutes. In a food processor, add your garlic and pulse until minced. Add your roasted tomatoes and basil, and pulse mixture until spreadable.
Cook your eggs whichever style you want. Lightly brush your break with olive oil and assemble your sandwich by adding the cheese, tomato spread, and egg. Cook over medium-low heat in a skillet until the cheese is melted.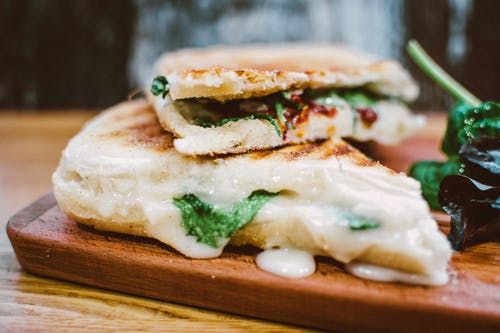 Mac 'N' Cheese With Bacon
Mac and cheese is popular comfort food that can easily be re-created into something different each time. Prepare this tasty mac 'n' cheese - bacon version and enjoy a delicious lunch option packed with a smoky bacon flavor!
What You'll Need:
12 ounces bacon, chopped

2 tablespoons flour

2 1/2 cups water

4 cups of milk

16 ounces short pasta (elbow macaroni is perfect)

1/2 teaspoon salt

1/4 teaspoon garlic powder

1/4 teaspoon onion powder

1/2 teaspoon smoked paprika

1/4 teaspoon pepper

4 cups shredded cheddar cheese

1 tablespoon chopped parsley
Cook the bacon until crispy. Once well-done, remove the bacon from the pan and leave 2 tablespoons of bacon fat on the pan. Add flour and whisk until combined. Pour in the water and milk and whisk until thickened. Stir in your pasta, salt, garlic powder, onion powder, smoked paprika, and pepper, and bring the mixture to a simmer. Cook until pasta is done. Turn your heat to low and stir in the cheddar cheese. Keep mixing until sauce is smooth. Fold in half of the bacon, and sprinkle the remaining bacon over the top along with the parsley. Serve hot!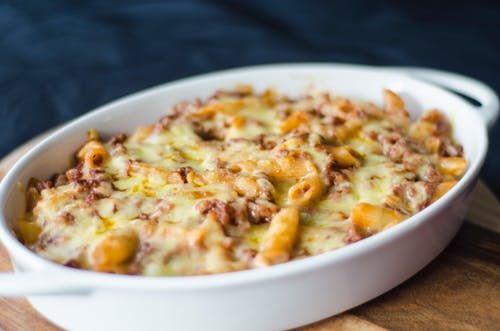 Apple and Cheddar Stuffed Pork Chops
Enjoy lunchtime with these juicy pork chops, stuffed with a mixture of breadcrumbs, diced apples, raisins, and cheddar cheese! Make your family feel like they're dining in a 5-star restaurant, and feed their cheesy hearts with this warm, hearty meal!
What You'll Need:
6 pork chops, bone-in (at least 1 1/4 inches thick)

1 1/2 cups bread cubes, toasted

1/2 cup chopped apples

1/2 cup shredded sharp Cheddar cheese

2 tablespoons raisins

2 tablespoons butter

2 tablespoons orange juice/apple juice

1/4 teaspoon salt

1/4 teaspoon cinnamon
Heat your oven to 350F. Create pockets in your pork chops by slicing into the chop towards the bone. Lightly sprinkle the inside of the pockets with salt and pepper.
In a bowl, toss in your bread cubes, apples, shredded cheese, and raisins. In a separate cup, combine butter, juice, salt, and cinnamon. Pour the wet mixture over the bread mixture and stir until thoroughly mixed. Stuff the pork chops with the bread and apple mixture.
Place the chops in a shallow baking dish and bake for about 45 minutes. Cover the baking dish with a foil and cook for another 15-20 minutes, until tender and cooked through.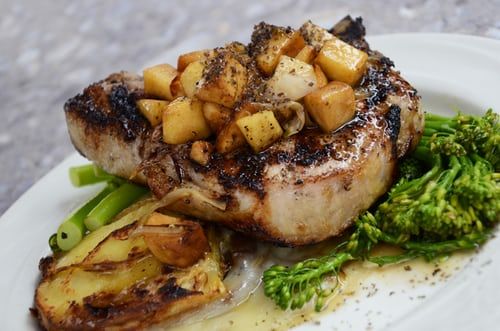 Scalloped Potatoes with Cheddar Cheese
Do you want to make the PERFECT side to just any kind of dish? Try these Scalloped Potatoes with Cheddar Cheese and leave the fam wanting more!
What You'll Need:
4 cups potatoes, thinly sliced

2 tablespoons all-purpose flour

1 teaspoon salt

1/8 teaspoon pepper

3 tablespoons butter

2 cups scalded milk

1/2 cup cheddar cheese (shredded)
Preheat the oven to 375F. Butter a 2-quart baking dish and layer about one-third of the potatoes in the prepared baking dish. Combine flour, salt, and pepper in a separate bowl. Sprinkle half of the flour mixture over the potatoes, repeat another layer of one-third of the potatoes and the flour mixture. Top with remaining potato slices. Add butter and pour the hot milk over.
Cover the baking dish with foil and bake for 45 minutes. Remove the cover and sprinkle the shredded cheese over the potatoes. Return to the oven and bake uncovered for another 15 minutes. Serve as a side to your favorite meaty dish!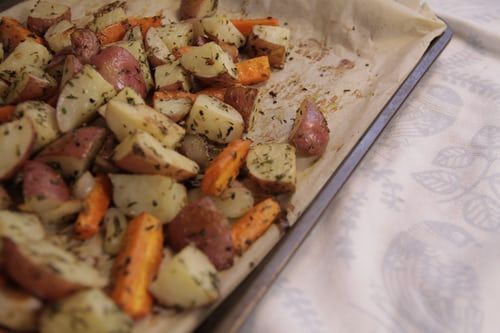 Blue Cheese Walnut Steaks
Meat lovers will have a feast over this! Delight the family with a classic dinner dish served straight from the kitchen! Try the Blue Cheese Walnut steaks recipe and indulge your loved ones with this special spread!
What You'll Need:
2 top sirloin steaks

2 ounces blue cheese (crumbled)

1/4 cup butter

2 garlic cloves

1/4 cup walnuts, toasted and chopped

2 tablespoons fresh parsley (coarsely chopped)

2 teaspoons rosemary

1 1/2 teaspoon salt

1 1/2 teaspoon coarse ground black pepper
Combine blue cheese, butter, parsley, and 1 teaspoon of chopped rosemary. Mix well. Add walnuts and mix.
Place your steaks on a plate or cutting board. In a small bowl, combine remaining rosemary, crushed garlic, salt, and pepper. Pat steaks with paper towels and apply equal amounts of rosemary-garlic mixture onto both sides.
Preheat grill for high heat. Grill steaks to your liking. Once done, remove from the grill and allow it to rest for 5 minutes. Top with the blue cheese-walnut mixture and serve!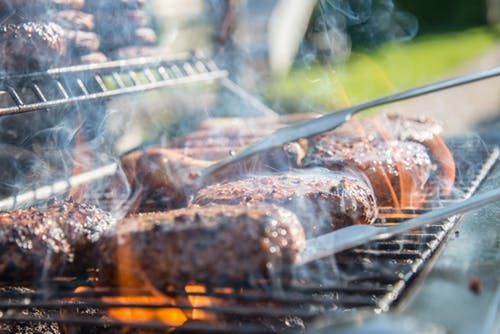 Southern Pimiento Cheese Burgers
An over-the-top version of your favorite comfort food! Try these Southern Pimiento Cheeseburgers and get an explosion of flavor with the mixture of cheddar cheese, mayo, cream cheese, and pimentos!
What You'll Need:
6 ounces shredded sharp Cheddar cheese

4 ounces shredded Monterey Jack cheese

3 tablespoons mayonnaise

3 tablespoons cream cheese, softened

1 (4-ounce) jar diced pimientos, drained well

1/8 teaspoon cayenne pepper

1.25 pounds ground chuck

1 teaspoon Worcestershire sauce

1 teaspoon kosher salt

1/2 teaspoon black pepper

red leaf lettuce

4 burger buns, toasted if desired
Make pimento cheese by combining the cheeses, mayonnaise, cream cheese, pimentos, and cayenne pepper. Mix well using a wooden spoon. Refrigerate until needed. Add Worcestershire sauce, salt, and pepper into the ground chuck. Shape into 4-5 patties. Make a depression in the center of each patty so they will cook flatter and become less dome-shaped.
Grill burgers on a grill or grill pan for about 4-6 minutes per side. Top burger with about 1/4 cup of pimento cheese and give it time to melt. Serve with a leaf of lettuce on the bottom of the bun and top with burger.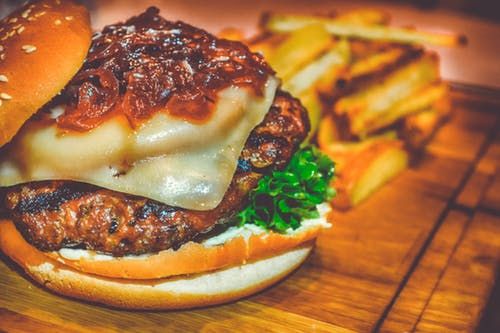 Jalapeno Popper Cheesy Pretzel Bombs
Use this recipe for a great movie time snack or a great ending to your full-course meal. These Jalapeno Popper Cheesy Pretzel Bombs can bring some spice to your daytimes and evenings (literally!), so eat up with caution!
What You'll Need:
12 ounces warm beer (110°-120°)

2¼ teaspoons active dry yeast (1 packet)

2 tablespoons granulated sugar

12 ounces bacon, cooked and chopped into bite-size pieces

8 ounces cream cheese

8 ounces shredded Mexican cheese blend (or cheddar cheese)

1 (4 ounces) can diced jalapeños

1 large egg

3 1/2 cups all-purpose flour + more for dusting counter

1 teaspoon kosher salt + more for pretzel tops

2 tablespoons baking soda

2 cups of water
Preheat oven to 450F. Pour beer into a bowl, and use a dough hook for your mixer. Sprinkle yeast over top, add sugar, and stir. Allow the yeast to bloom for 10 minutes, and once nice and foamy, the mixture is ready.
Combine cheeses, bacon, and jalapenos, and mix. In a separate bowl, beat eggs and set aside. Add flour and salt to the beer mixture and knead for 3-5 minutes until the dough comes together. If the bread is too sticky, add more flour a tablespoon at a time. The dough should be tacky. Place it on a floured countertop and knead until no longer tacky. Form the dough into a ball and cut into 36 even pieces.
Fill a medium bowl with 2 cups of hot water and add baking soda. Roll each dough piece (one at a time) into a ball, then flatten it into a circle. Add 1 tablespoon of cheese mixture in the center, and carefully pull each side over the cheese to create a 'cheese package' pinching the edges closed. Roll the dough into a ball. Once done, transfer to the hot water mixture and put on the cookie sheet. Arrange all pretzel balls on parchment, so they are not touching. Brush egg washes onto each one, and sprinkle with coarse salt, and bake for 8-10 minutes.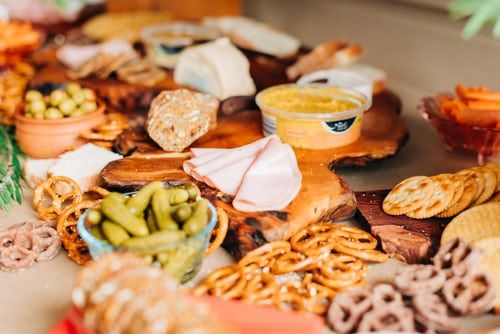 New York Cheesecake
And now, for the dessert that everyone has been excitedly anticipating! This Classic New York Cheesecake won't disappoint-- it's sweet, salty, and flavorful, and it's everything you've ever wanted in a delectable dessert!
What You'll Need:
10 graham crackers

1 tablespoon sugar

7 tablespoons butter

2 1/2 pounds cream cheese (5 packs)

1 1/2 cups sugar

1/2 cup sour cream

6 whole eggs plus 2 egg yolks

1 tablespoon lemon juice

2 teaspoons vanilla extract

Pinch salt
Preheat oven to 325 F. Break up the graham crackers and pulse them in a food processor until you have fine crumbs. Transfer the crumbs to a mixing bowl and stir in the sugar. Sir in the melted butter and combine until the crumbs are uniformly moistened. Press the crumbs into the bottom of a 9-inch springform pan until you have an even layer, and bake for 10 minutes. Remove the pan from the oven and let the crust cool while you do the next steps.
Preheat oven to 500 F. Cut the cream cheese into cubes and let it sit at room temperature for about 20 minutes to soften. Transfer the softened cream cheese to a bowl and beat it on medium speed for 2 minutes. Add the sugar, salt, lemon juice, vanilla, and sour cream and beat for another two minutes. Once done, add eggs and egg yolks and beat until everything is completely blended, and the mixture is smooth and fluffy.
Fill a roasting pan half full of water and set it on the lower rack of your oven. Seal the bottom of the springform pan with foil and set it on a baking pan. Pour the filling into the springform pan and transfer the baking pan (with the cheesecake on it) to the upper rack in the oven. Bake at 500F for 10 minutes, then lower heat to 200F and bake for 1 and 1/2 hours. Don't open the oven door! When it's finished, the cheesecake should jiggle a little bit at the center but be firm at the edges. Let the cheesecake cool for a full three hours at room temperature, then cover with plastic wrap and refrigerate at least overnight, although a full 24 hours is best. Serve with some whipped cream!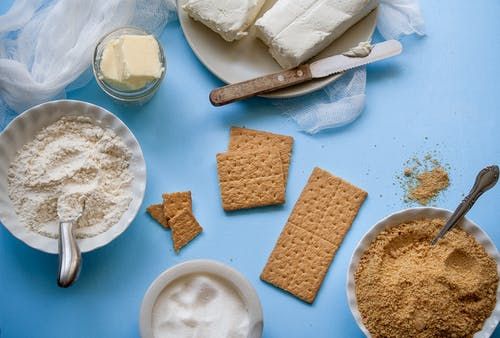 Selling Your Home?
Get your home's value - our custom reports include accurate and up to date information.
Get Home Value