Where To See Fireworks In Hilton Head, Bluffton, Beaufort And Savannah Areas
No matter what age you are, fireworks always captivate us. With Independence Day just around the corner, we've rounded up our list of popular places around Hilton Head, Bluffton, Beaufort and the Savannah areas where you can enjoy unique and spectacular fireworks displays while enjoying fun, music, laughter and love with the people that matter to you.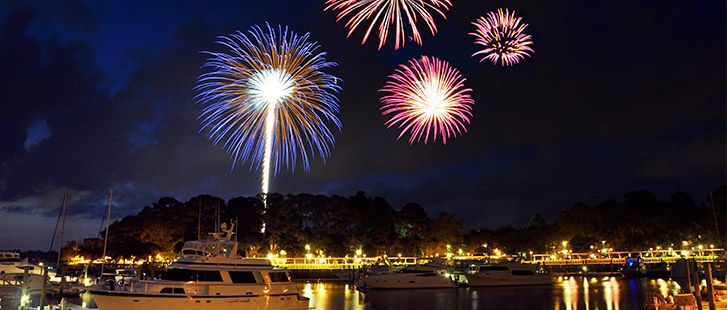 Image source: Palmetto Dune
When: Tuesday, July 4, 2017, 6 p.m. – 10 p.m.
Tuesdays will never be the same again as Shelter Cove Harbour will make each Tuesday night throughout the summer the most festive night of the week with HarbourFest. Highlights of this family-friendly festival include carnival games, face painting, Cappy the Clown, live music by Shannon Tanner, treats from vendors and fireworks to cap the night away. Bring your friends and family along on July 4 and every Tuesday that follows until the 15th of August. Shannon Tanner is performing each night at 6:30 p.m. and 8 p.m. The fireworks show is set to go off at 9:30 p.m.
---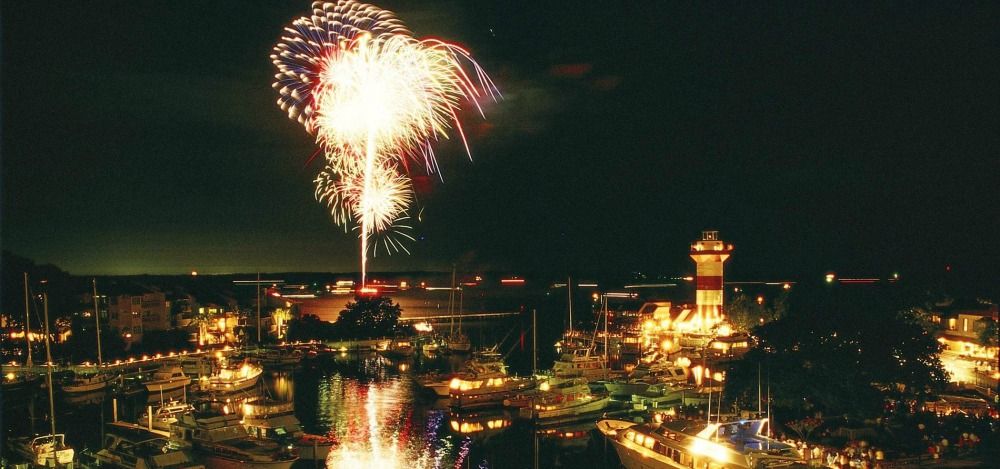 Image source: OMBRA Cucina Rustica
When: Tuesday, July 4, 2017, 9:30 p.m. – 11 p.m.
Get ready to witness a spectacular fireworks extravaganza at the popular and well-loved Harbour Town Lighthouse overlooking the Calibogue Sound. Although the fireworks show is a complimentary event, there is a $6 gate fee for entry into Sea Pines so bring some cash. You may visit their website seapines.com or call The Sea Pines Resort Recreation Department at (843) 842-1979) to get more information.
---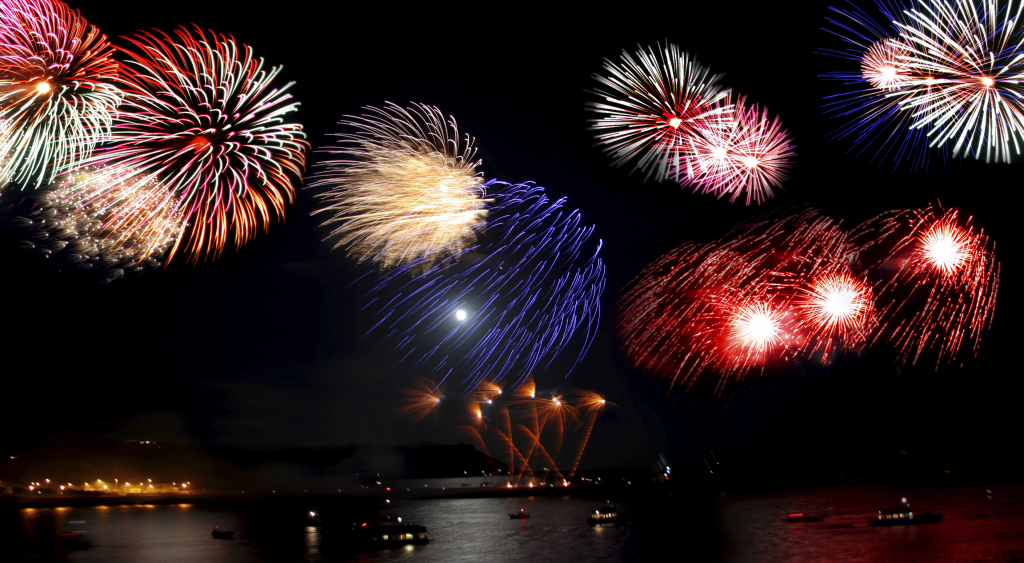 Image source: the local's guide to hhi
When: Tuesday, July 4, 2017, 6 p.m. – 10 p.m.
Be mesmerized with the free community fireworks display at 9:30 p.m. that's happening at a barge in the Intracoastal Waterway. Featuring live entertainment at Hudson's and Skull Creek Boathouse that's slated to begin at 6 p.m., this 33rd Annual Skull Creek 4th of July Celebration comes bundled with free parking and shuttle service at Gum Tree Road courtesy of the Boys & Girls Club. Visit hudsononthedocks.com or call (843) 681-2772 for more information.
---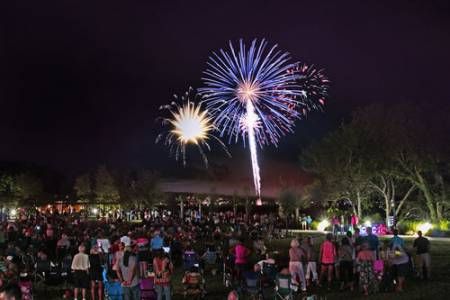 Image source: Vacation Homes of Hilton Head
When: Tuesday, July 4, 2017, 4:30 p.m. – 9:30 p.m.
Celebrate Summer Jams every Tuesday night at the family-friendly Shelter Cove Community Park. Make sure to bring your lawn chairs which should come in handy as you witness the fireworks show that's scheduled to start at 9 p.m. For a minimal fee, you can also enjoy face painting and inflatable bounce houses at this festive and fun-filled event. Visit islandreccenter.org or call the Island Rec. Center at (843) 681-7273 for more information.
---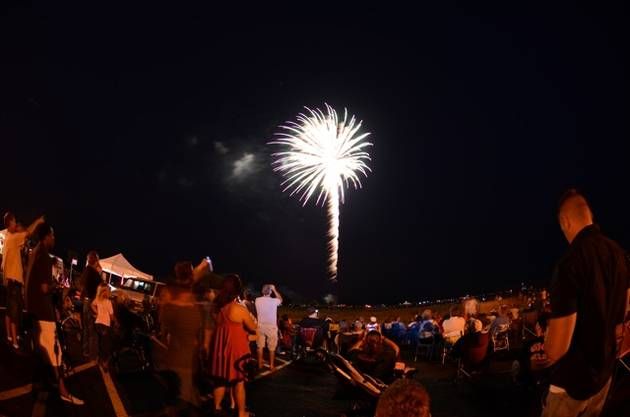 Image source: Eat Sleep Play Beaufort
When: Tuesday, July 4, 2017, 5 p.m.
Enjoy a family fun event at the town of Port Royal which is the best place for viewing the breathtaking fireworks display from Parris Island. Also, there will be live music, face painting, food vendors, Tux the Clown and a lot more at this free event. Coolers and pets will not be allowed.
---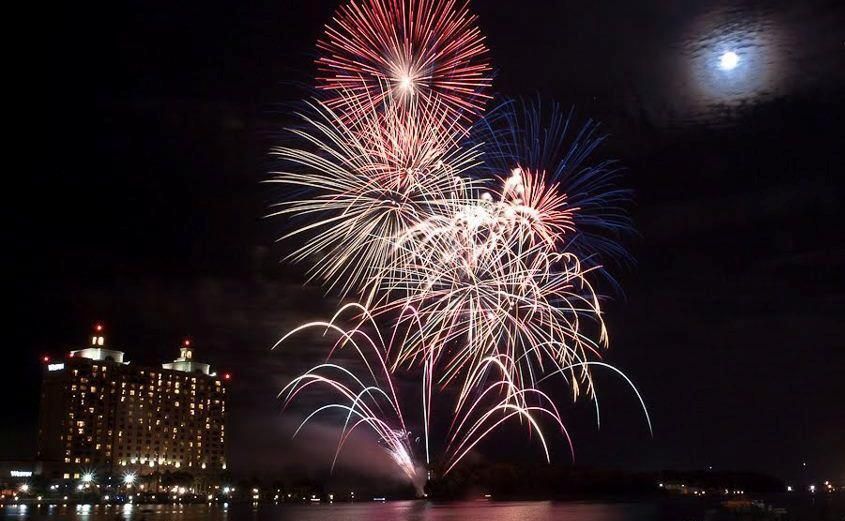 Image source: The Savannah Waterfront Association
When: Tuesday, July 4, 2017, 7 p.m. – 10 p.m., and
Tuesday, July 4, 2017, 9 p.m. – 10:30 p.m.
It's a no-brained to add the Savannah Riverboat Cruise to our list since it's definitely one of the best places for witnessing the fireworks display. On July 4, you can opt to join the cruise when it sails from 7 p.m. to 10 p.m. and satisfy your palate with a delicious dinner buffet that's highlighted with an impressive fireworks show. If you're a rock solid fireworks buff, you can also join the one and a half hour cruise (9 p.m. to 10:30 p.m.) which will feature the famous waterfront fireworks display with a unique Savannah flavor.
---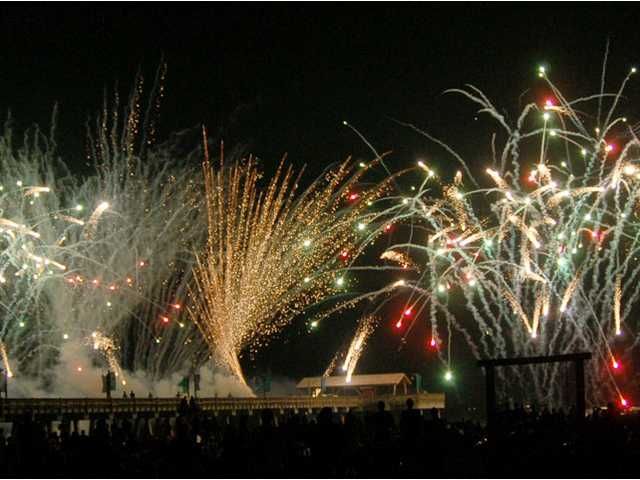 Image source: Tybee Island
When: Tuesday, July 4, 2017, 9:15 p.m. – 10 p.m.
This year's fireworks display will be staged on the pier starting at around 9:15 p.m. You can go to any of the island's eastern beaches as each will surely provide a perfect spot for viewing the show at the island's Independence Day Fireworks celebration.
Can't get enough of fireworks? Other places where you can get a good view of the fireworks show include Skull Creek Boathouse (Hilton Head – at sunset); Rooftop Bar at Poseidon (Shelter Cove Towne Center, Hilton Head – 9:30 p.m., fireworks coming from Broad Creek); Sea Pines South Beach (Hilton Head – see the fireworks display from Shelter Cove to the North, Harbour Town to the East and Tybee Island to the South); and River Street (Rousakis Riverfront Plaza, Savannah – July 3, 10 a.m. – July 4, midnight).
Be part of the Fourth of July celebration at a city that's founded in 1733. Celebrate th...
---
Thinking of buying a home in South Carolina?
When visiting is no longer an option and you decided to set roots in this town, we at the ERA Evergreen Real Estate team can help. From Single Family Homes, Condominiums to townhomes and more, we are positive we can find the right home for you. Call or just text us at 843-473-4498 and let's get started!
Visit our website to view real estate listings in the area.