9 Easy Summer Dishes You Can Prepare with the Kids
The summer season is here, and if you want to get your kids working in the kitchen but don't know when to start, this is a perfect time!
Cooking with the kids is a great way to keep them busy over the summer holidays– and teach them life skills and responsibility, too! So, if you're raring to try out a kitchen session with the little ones this weekend, here are some quick and easy recipes that'll be a sure hit with the fam!
Chocolate and Strawberry Stuffed French Toast
Your all-time favorite brekky– with a twist! This chocolatey-strawberry goodness is a morning treat the whole family will fall in love with!
What You'll Need:
3 eggs
1 1/4 cups nonfat milk
1/2 teaspoon vanilla extract
1/4 cup part-skim ricotta cheese
8 slices of whole-wheat sandwich bread, crusts removed
1 (8-ounce) container strawberries, hulled and sliced
4 teaspoons bittersweet chocolate chips
Cooking spray
2 teaspoons confectioners' sugar
Directions:
In a large bowl, whisk together the eggs, milk and vanilla. Set aside.
Place 1 tablespoon of ricotta in the center of 4 of the pieces of bread and spread around slightly. Top with about 6 slices of strawberries and a teaspoon of chocolate chips. Cover each with another piece of bread.
Spray a large nonstick skillet or griddle with cooking spray and preheat. Carefully dip each of the "sandwiches" into the egg mixture until completely moistened. Then place on the skillet and cook over a medium heat for 3 to 4 minutes per side, until the outside is golden brown and the center is warm and chocolate is melted.
Transfer to serving places. Top with remaining strawberries and sprinkle with confectioners' sugar.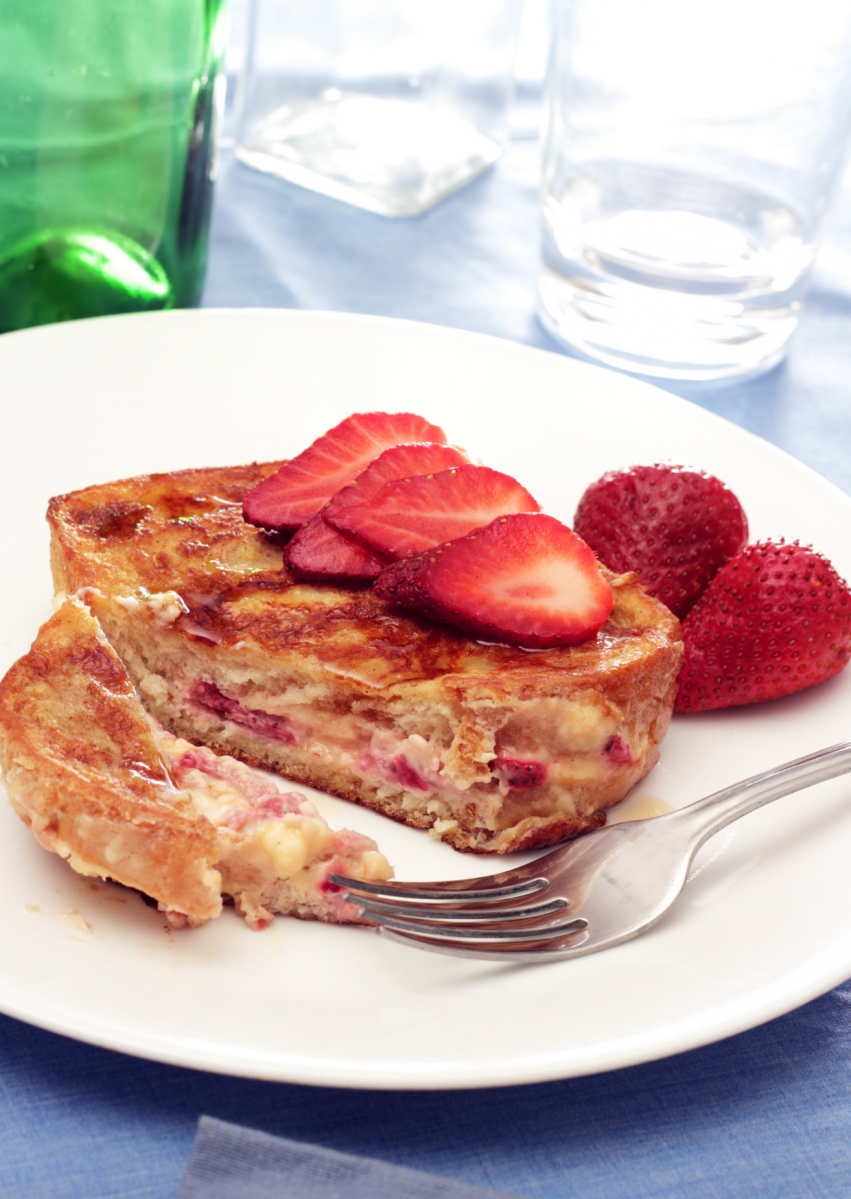 Blueberry Whole Wheat Muffins
Muffins for breakfast? Well, if you trade in your usual flour for some whole wheat, then you've got yourself a fiber-rich, delicious, and healthy breakfast surprise for the kiddos!
What You'll Need:
1 1/2 cups whole wheat pastry flour or white whole wheat flour
1/2 cup rolled oats, plus more for sprinkling
1 teaspoon baking powder
1/2 teaspoon fine salt
1/4 teaspoon baking soda
1/2 cup vegetable oil
1/2 cup reduced-fat sour cream
1/2 cup packed light brown sugar
1 teaspoon finely grated lemon zest
1 teaspoon pure vanilla extract
2 large eggs
1 cup blueberries
Turbinado sugar, optional, for sprinkling
Directions:
Preheat the oven to 350 degrees F. Line a 12-cup muffin pan with muffin liners.
Combine the flour, oats, baking powder, salt and baking soda in a large bowl. Whisk together the vegetable oil, sour cream, brown sugar, lemon zest, vanilla and eggs in another bowl. Fold the sour cream mixture into the flour mixture until just combined, and then fold in the blueberries (don't worry if there are a few lumps).
Divide evenly among the prepared muffin pan. Sprinkle with oats and turbinado sugar if using. Bake until the muffins are golden and a toothpick inserted in the center comes out clean, 20 to 24 minutes. Cool in the pan for a few minutes, and then transfer to a rack to cool completely.
Zucchini Snack Pizzas
Are you looking for a tasty but healthy lunch idea for the family this weekend? Try this Zucchini recipe and enjoy a cheesy serving without the guilt!
What You'll Need:
1 large zucchini, washed and trimmed
1 tomato, coarsely chopped
1 cup grated mozzarella cheese
4 to 6 basil leaves, chiffonaded, for garnish
Directions:
Preheat oven to 400 degrees F. Cut the zucchini horizontally or severely on the bias about 1/3 inch thick. Brush with olive oil and season with salt and pepper. Either roast on baking sheet in oven for about 10 minutes or grill. Zucchini strips should retain body and firmness.
Sprinkle cooked zucchini with chopped tomato and mozzarella. Return to oven and allow cheese to melt, about 5 to 8 minutes. Remove from oven and sprinkle with basil.
Serve on plates with knives and forks, moms may have to cut pieces up.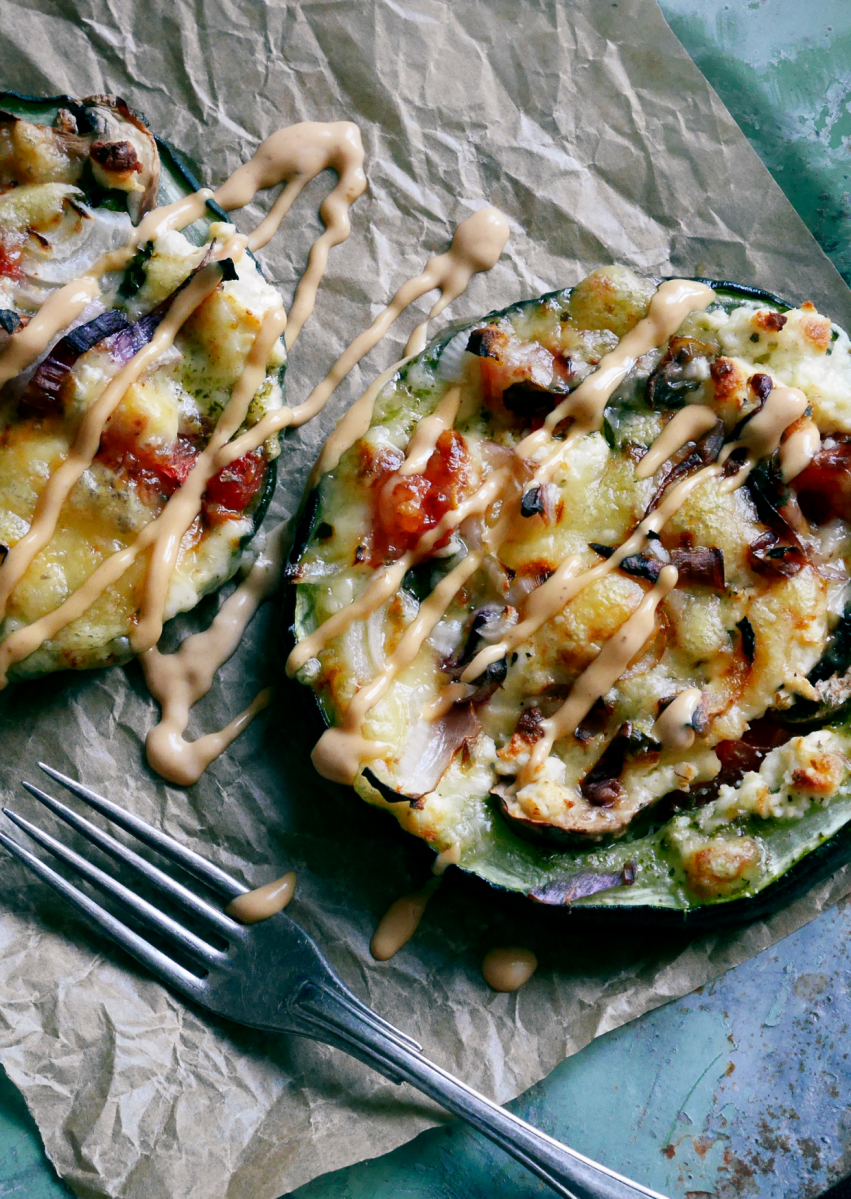 Pepperoni Pizza Wrap
Are you craving the real thing? Well, try this easy pizza wrap recipe and get your fave comfort food to go for that family picnic you've been planning for the weekend!
What You'll Need:
1 stick light string cheese
1 medium-large high-fiber flour tortilla
2 tablespoons pizza sauce
Dash Italian seasoning
Dash garlic powder
Dash onion powder
1/4 cup chopped spinach leaves
1/4 cup canned stewed tomatoes, roughly chopped, patted dry
1 teaspoon reduced-fat Parmesan-style grated topping
6 pieces turkey pepperoni, chopped
Directions:
Set toaster oven to highest setting. Break string cheese into thirds and put in a blender or food processor-blend at high speed until cheese takes on a shredded or grated consistency. (Or just tear string cheese into pieces and roughly chop.) Set aside.
Place tortilla on a microwave-safe plate and microwave for 10 seconds, or until just warm. Evenly spread sauce onto the center of the tortilla, and sprinkle with a dash of each of the spices. Top with spinach, stewed tomatoes, Parm-style topping, chopped turkey pepperoni, and shredded/grated string cheese.
Wrap tortilla up like a burrito, folding the sides in first, and then rolling it up from the bottom. Place wrap on a microwave-safe plate, seam side down, and warm in the microwave for 30 seconds.
Transfer wrap to the toaster oven and cook until hot on the inside and slightly crisp on the outside, about 3 minutes. Dig in!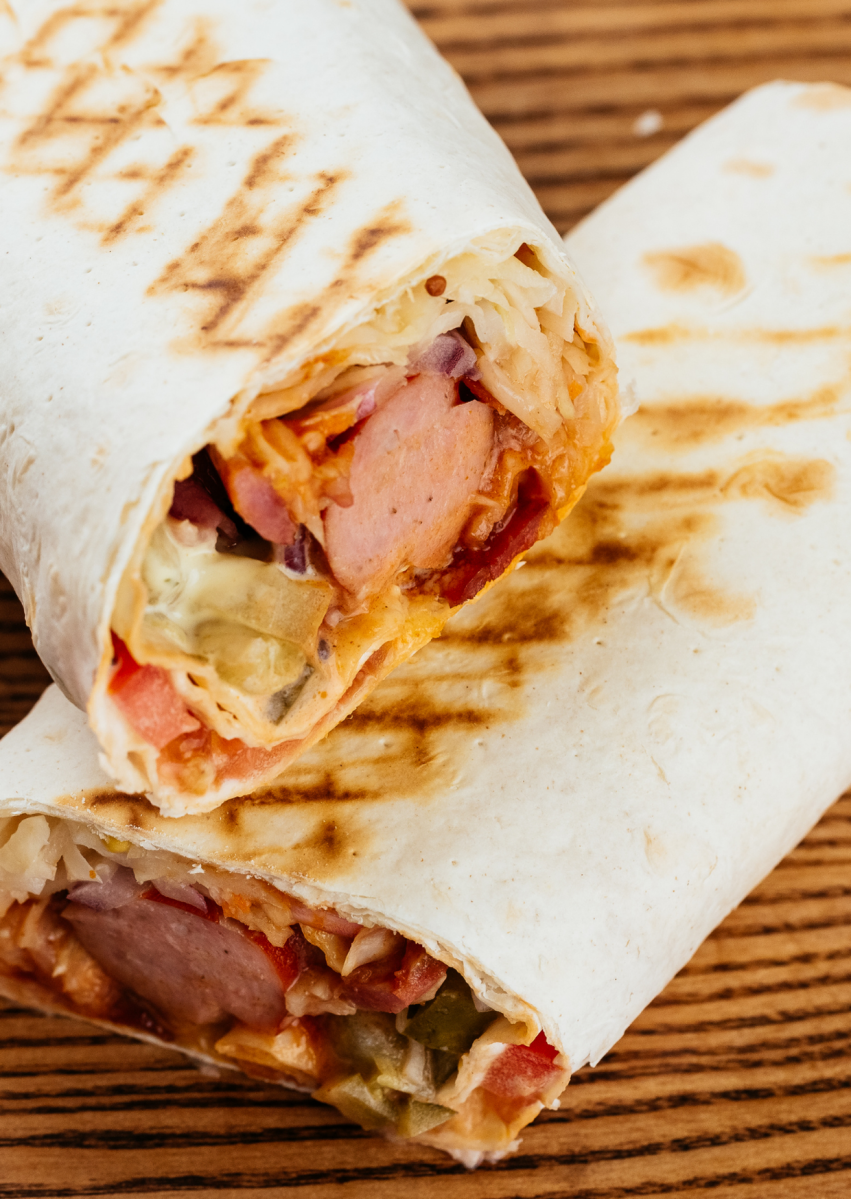 Juicy Grilled Cheeseburgers
Grilled anything is a staple this summer, so start with some grilled cheeseburgers! The kids will love assembling stacks of their fave meal– and eating it, too!
What You'll Need:
Canola oil or nonstick grilling cooking spray, for oiling the grates
1 medium red onion, thinly sliced
Kosher salt and freshly ground black pepper
2 tablespoons ketchup
2 tablespoons yellow mustard
4 whole wheat English muffins, split
1 medium ripe tomato, cored and cut into 4 thick slices
1 pound 90-percent lean ground beef
2 ounces 50-percent reduced-fat sharp Cheddar, grated (about 1/2 cup)
Directions:
Heat a grill to medium-high direct heat and lightly oil the grates using a paper towel soaked in canola oil or nonstick grilling cooking spray.
Spread a 16-inch-long piece of nonstick aluminum foil on a cutting board (or mist a piece of regular aluminum foil with nonstick cooking spray). Top with the onions, 1/4 teaspoon each salt and pepper and 1 tablespoon water. Bring two sides of the foil together, fold over twice to create a seal and then seal the remaining two ends. Put on the grill and cook for 12 minutes, flipping once. The onions should be tender with only a bit of charring. Carefully open the top of the foil to let all the steam out and continue to cook the onions, tossing, until browned and lightly charred, 3 minutes longer. Remove from the heat.
While the onions cook, mix the ketchup and mustard together in a small bowl. Season with pepper and set aside. Meanwhile, Lightly toast the English muffins on the grill and place one top and bottom on each of 4 plates. Spread some of the ketchup sauce on the bottom half of each muffin and top with a slice of tomato.
Divide the beef into 4 patties about 4 inches in diameter and just under 1/2-inch thick. Sprinkle with a total of 1/2 teaspoon salt and 1/4 teaspoon pepper. Place the burgers on the grill. Cook until the edges of the burgers are browning, 3 to 5 minutes, and then flip. Brush the burgers with the remaining ketchup sauce and evenly top with the shredded cheese. Cover the burgers with the grill lid or a large heatproof bowl and continue to cook until the cheese has melted and the burgers are still a bit pink on the inside, about 3 minutes more.
Put one burger on top of the assembled muffin bottom and top with some of the grilled onions and the top of the muffin. Serve with pickles if desired.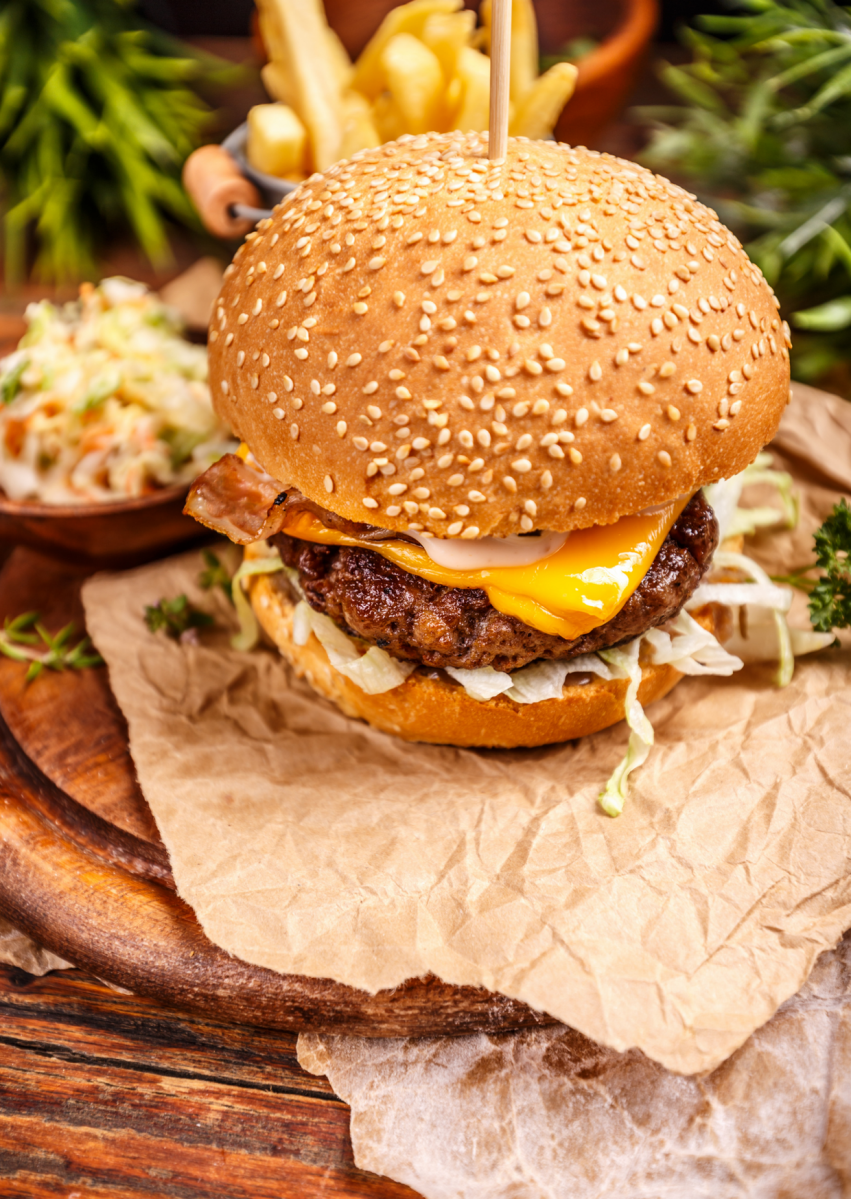 Spiced Chicken and Grape Skewers
Grapes and chicken in one meal? Don't cross it out before you try it– make these tasty skewers with the kiddos and treat the family to a heart lunch and have fun making it too!
What You'll Need:
2 tablespoons olive oil
1/2 teaspoon lemon zest
1 tablespoon lemon juice
2 cloves garlic, minced
1 teaspoon ground cumin
1/2 teaspoon ground coriander
1/2 teaspoon salt
1 pound boneless skinless chicken breast, cut into 3/4-inch cubes
8 (10-inch) skewers
1 1/2 cups seedless green grapes
Cooking spray
2 tablespoons chopped fresh mint leaves
1 lemon, cut into wedges
Directions:
In a medium sized bowl whisk together the oil, lemon zest, lemon juice, garlic, cumin, coriander, and salt. Add the chicken to the marinade and toss to coat. Marinate the chicken for 20 minutes. While the chicken is marinating, soak the skewers in water if wooden.
Thread 4 pieces of the chicken and 4 grapes onto the skewers, alternating them. Spray a grill pan with cooking spray and preheat over a medium-high heat, or prepare an outdoor grill. Grill the chicken until cooked through, about 3 to 4 minutes per side. Sprinkle with mint and serve with lemon wedges.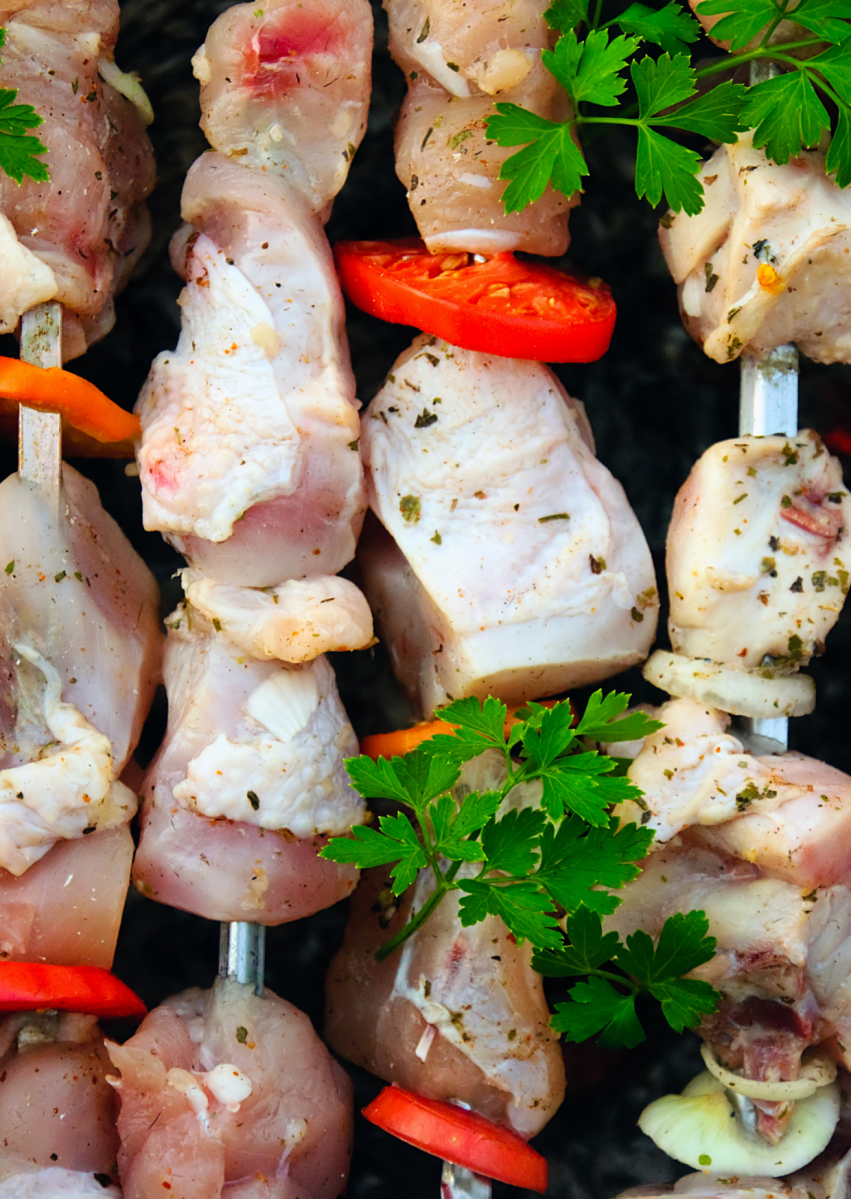 Broccoli Salad
The South loves its dose of mayonnaise- and bacon-drenched broccoli salad partnered with any meaty meal, but if you're feeling a little health-conscious, then try out this yummy version!
What You'll Need:
1/4 cup nonfat Greek yogurt
2 tablespoons balsamic vinaigrette
5 cups chopped broccoli (florets and stems)
2 tablespoons roasted and salted sunflower seeds
1/4 cup raisins
Greek Yogurt
Directions:
In a small bowl whisk yogurt and vinaigrette until smooth. Add a tablespoon of water to thin it out slightly. Season with 1/4 teaspoon kosher salt and black pepper; set aside. In a medium bowl, combine broccoli, sunflower seeds and raisins. Top with dressing and toss well. Place in the refrigerator for at least 30 minutes before serving to allow the flavors to marry.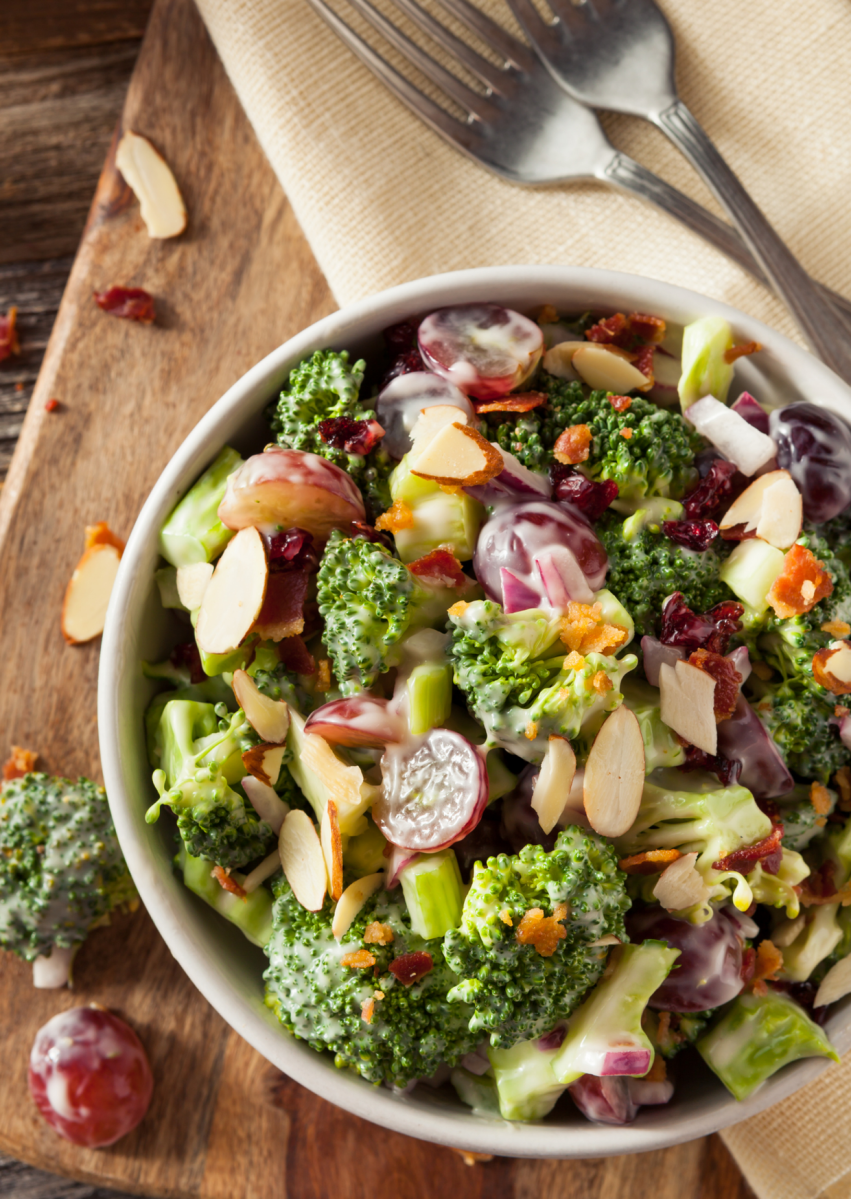 American Macaroni Salad
Are you missing your fave American side? Make one for the family this weekend! For sure, your Mac salad will turn out extra special since you'll be making it with your precious ones too!
What You'll Need:
2 cups dry elbow macaroni, cooked, rinsed, and drained
1/3 cup diced celery
1/4 cup minced red onion, soaked in cold water for 5 minutes, drained
1 tablespoon minced flat-leaf parsley
1/2 cup diced vine-ripened tomato (optional)
1/2 cup prepared mayonnaise
3/4 teaspoon dry mustard
1 1/2 teaspoons sugar
1 1/2 tablespoons cider vinegar
3 tablespoons sour cream
1/2 teaspoon kosher salt, plus more to taste
Freshly ground black pepper
Directions:
In a large bowl, combine the macaroni, celery, onion, parsley and tomato, if using. In a small bowl, whisk together the mayonnaise, mustard, sugar, vinegar, sour cream and salt. Pour the dressing over the salad and stir to combine. Season with salt and pepper to taste. Serve. Store covered in the refrigerator, for up to 3 days.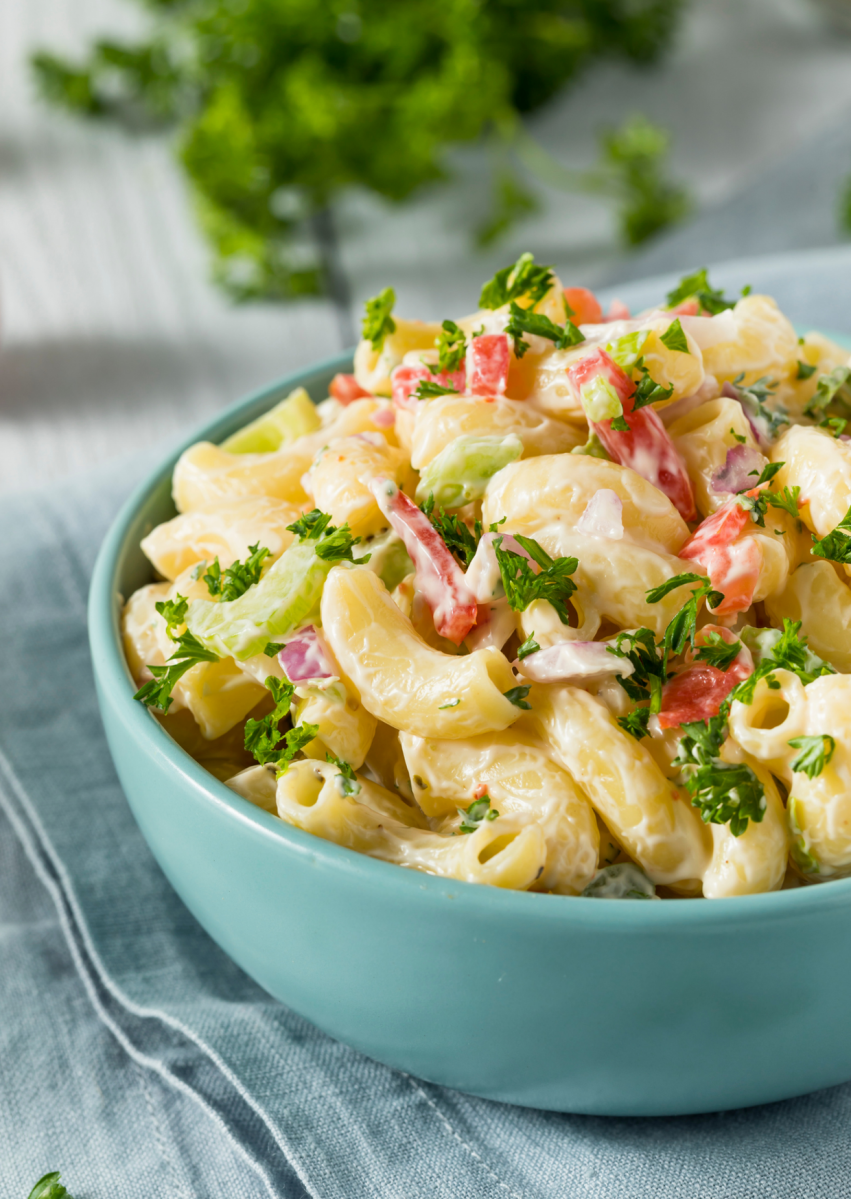 Rainbow Skewers with Chocolate-Dipped Strawberries
The summer isn't complete without a fruity sweet treat, so make your dessert a healthy one by preparing these mouth-watering rainbow skewers for the fam!
What You'll Need:
1 kiwi, peeled
1 large orange, peeled
1/2 cup blueberries
1 cup pineapple chunks
12 chocolate dipped strawberries, recipe follows
Chocolate-Dipped Strawberries:
2 1/2 ounces dark chocolate
1 pound strawberries, washed and trimmed
Directions:
Cut the kiwi and orange crosswise into 4 rounds, then cut each round into 3 pieces, so you end up with 12 pieces of each fruit. To prepare the skewers, put 2 blueberries about 1/3 of the way down the skewer, add a piece of kiwi, a pineapple chunk, a piece of orange, and top with a chocolate dipped strawberry.
Line a tray with waxed paper. Break up the chocolate into small pieces and place about two thirds of it into the bowl of a double boiler over barely simmering water. Make sure that the bottom of the bowl does not touch the water. Stir occasionally, very gently, until the chocolate has melted, about 1 minute. Remove the bowl from the double boiler and add the rest of the chocolate, stirring gently until it has melted. Dip the strawberries in the chocolate, place on the waxed paper and chill in the refrigerator for 15 minutes until chocolate is set.